Want to install a desktop theme and icon set? Let me show you how it works in Linux Mint.
Linux Mint is one of the popular Linux Distros with an user friendly desktop appearance. It's based on Ubuntu LTS and one of good choices for beginners switching from Windows.
Platform:
Linux Mint comes with three editions: Cinnamon, MATE (Gnome 2 continuation), and Xfce.
Here I'm going to show you how it works in Linux Mint 20 with Cinnamon.
Linx Mint 20 with Cinnamon desktop.
How to Change Theme in Linux Mint:
It quite easy to try out different themes in the Cinnamon desktop.
Simply go to Start Menu > System Settings > Themes, then you can see options to change the app window borders, icons, control buttons, cursor, and desktop (e.g., panel, menu) appearance.
Simply click on a rectangular area in right. It will expend and give you a list of all available items for choice.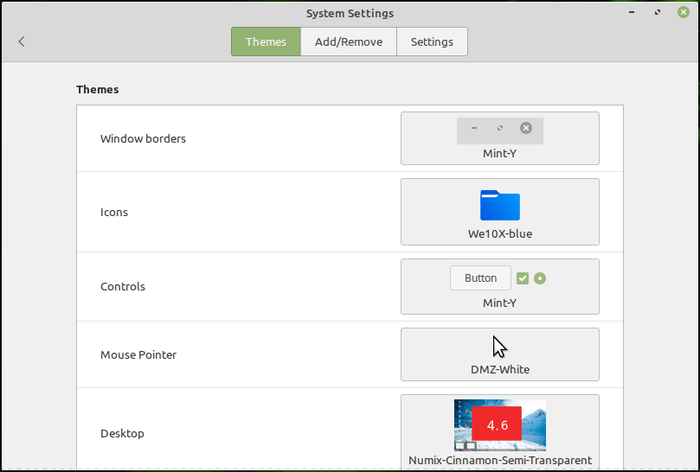 How to Install A Theme:
Linux Mint comes with a list of built-in themes. Under Add/Remove tab in theme settings, it also offers lots of themes to download and install. (click Yes to update cache if you don't see them)
These are Cinnamon spices themes which also available in this web page.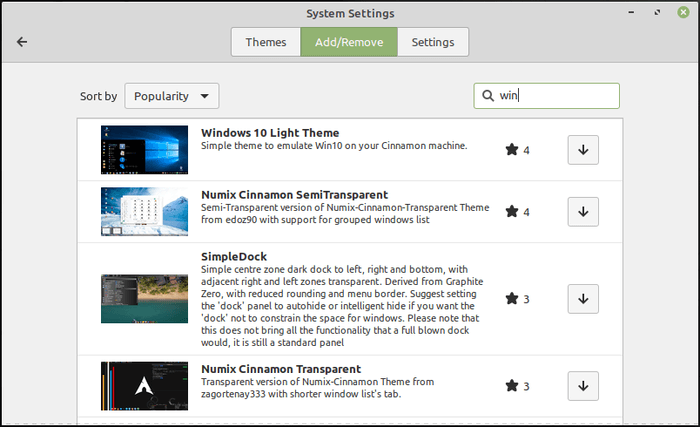 Where will the themes to be installed? Well, that's how you can manually install third-party themes and icons in Linux Mint.
Same to Ubuntu, all themes and icons for single user use can be installed to user's .themes and .icons folders. And for all users in system, you may install them to /usr/share/themes and /usr/share/icons, which requires root permission.
Let's see how these folders look like (click to expand images):
So third-party themes can be easily installed by:
downloading theme packages from web;
extract the theme tarball;
put theme folders to user's .themes, and icons folder to user's .icons directory;
and finally choose the theme in system settings.
Where to get more Cinnamon themes and icons? Go to the link below:
Conclusion:
Cinnamon desktop offers an user friendly theme settings page allows to change window borders, buttons, icons, and panel appearance. It also offers buttons to download & install from a list of self-hosted themes. For third-party themes, simply put theme folder to user's .themes or icons to user's .icons directory, so they will be available in theme settings' selection box.