Firefox 118, a new monthly release of the popular free open-source web browser, is available to download!
The release features Chrome similar automated translation of web content. By visiting a website in non-default language, there will be new icon appear in the right side of address bar. Which, provides translation options and preferred settings.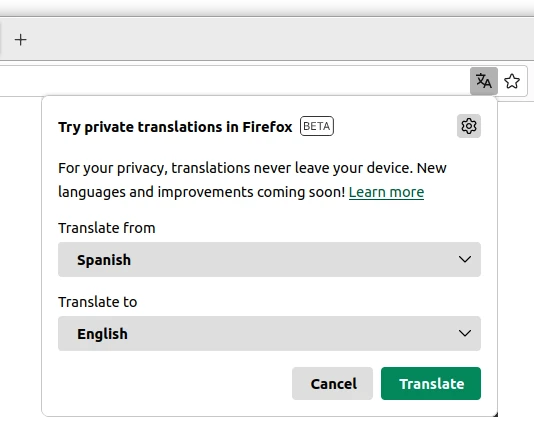 Translation is done locally in Firefox, so that the text being translated does not leave your machine.
In the "Settings" page, there's new "Translation" section, allows to choose which languages to translate automatically, which languages and websites to exclude. Though, in my tests only Bulgarian, Dutch, French, German, Italian, Polish, Portuguese, Spanish are supported.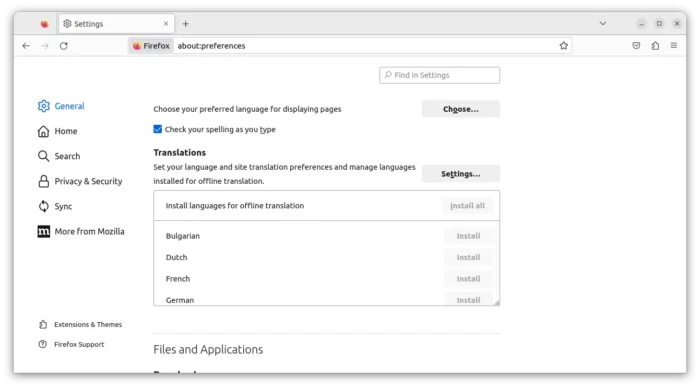 Firefox 118 also introduced Video Effects and background blur support for Google Meet, which also is backported to support Firefox 115.
Other changes in the new Firefox release include:
Web Audio now uses the FDLIBM math library on all systems to improve anonymity.
Restrict to system fonts and language pack fonts in Private Browsing windows
Support browser add-on suggestions in Firefox Suggest (US-only)
10 new CSS math functions support: round, mod, rem, pow, sqrt, hypot, log, exp, abs, sign.
Opaque Response Blocking (ORB) support enabled by default.
Various security fixes.
Get Firefox 118
The official release note as well as download link are available in the page below:
For most Linux, the new Firefox package will be made into official repositories. So just wait and keep your system up-to-date will get Firefox 118. For Ubuntu 22.04 and higher who don't like the pre-installed Snap package, the MozillaTeam PPA is available for choice, though you have to manually set package priority.