Want to play some ambient sounds, e.g., bird, raining, thunderstorm, night, river flowing sounds in Ubuntu Linux? Try Anoise player.
Anoise is a simple noise player for Ubuntu, Linux Mint based systems. It may be useful for improving focus and increasing your productivity by listening to different sounds. Or it may allow you to fall asleep in a noisy environment.
So far it plays following sounds:
rain, forest rain, storm, thunderstorm sounds.
Birdsong of bambusicola, carduelis, ficedula, prunella, turdus
River flowing sounds: Waterfall Olddam, Coon Creek, Dinosaur Drain, Rideau River, Stoney Creek, fountain, Lake Huron, Lake Superior
Machine sounds: Diesel Motor, Dumptruck idling, Fishing boat, House fan, Large boat, Old air conditioner.
Coffee Shop
Fire, Wind, Wind Pinery, Forest, Frogs, Summer night, Sea, and more.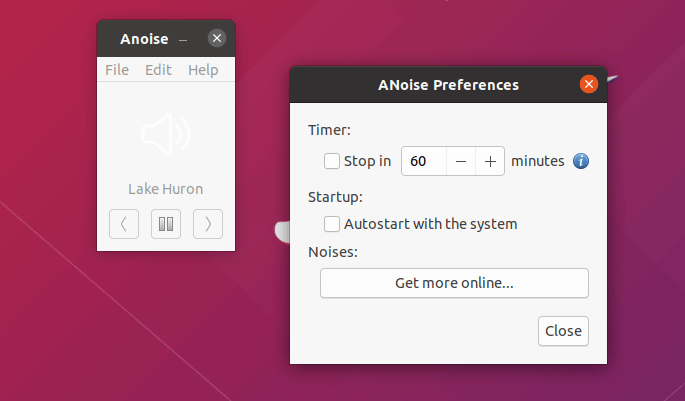 How to Install Anoise in Ubuntu:
The player has an Ubuntu PPA for all current releases, including Ubuntu 16.04, Ubuntu 18.04, Ubuntu 20.04, Linux Mint 19.x, 20.
1. To add the PPA
Open terminal from system application menu. When it opens, run command:
sudo add-apt-repository ppa:costales/anoise
You'll be asked to type user password without asterisk visual feedback.

2. Refresh package cache and install ambient noises
Then run commands in terminal to check updates and install the player:
sudo apt update

sudo apt install anoise-gui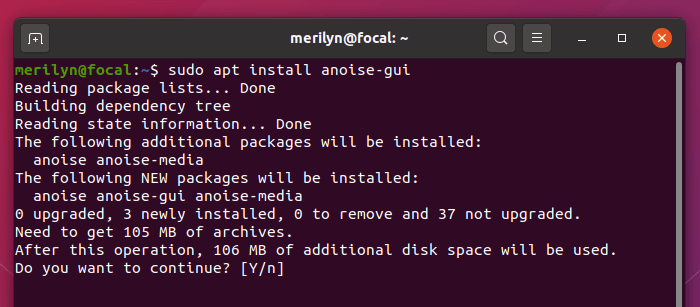 3. Install more ambient sounds.
The player by default comes with a few sounds. To get more, run command to install extensions:
sudo apt install anoise-community-extension*
NOTE for Ubuntu 20.04, the asterisk wildcard usage has changed in apt 2.0, run this command instead:
sudo apt install "~nanoise-community-extension*"
4. (Optional) To remove the noise player as well as PPA.
To remove the PPA, either go to Software & Updates > Other Software or run command:
sudo add-apt-repository --remove ppa:costales/anoise
To remove the noise player, run command in terminal:
sudo apt remove anoise