Looking for a graphical tool to automatic shutdown, reboot, suspend your Ubuntu system at a specified time? Here are 3 applications worth a try.
1 KShutdown.
KShutdown is a free and open-source graphical shutdown utility for Linux and Windows. It allows you to shutdown, reboot, hibernate, suspend, lock screen, log out, custom actions, or send message without shutdown at a specified time.
Action can be done:
at a selected date and time.
after a period of time.
On application exit.
On user inactivity.
It also offers a command line interface, supports for keyboard shortcuts and adding bookmark for current settings.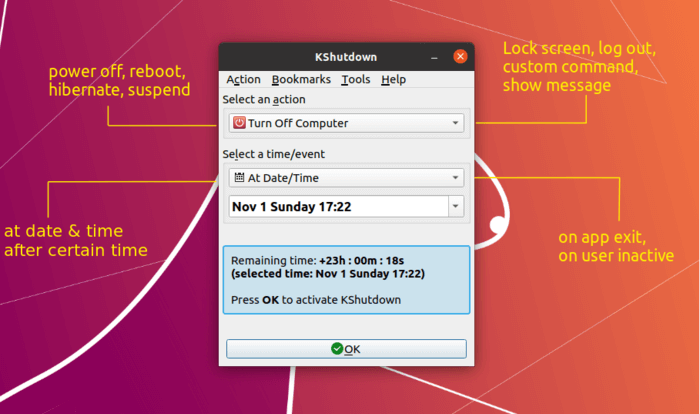 Ubuntu can install KShutdown either from Ubuntu Software or by running command in terminal:
sudo apt install kshutdown
2. GShutdown
GShutdown is a GTK tool to schedule the shutdown or the restart of your computer, or logout your actual session.
And action can be done at a selected date and time or after a specified hours and minutes.
It also supports for running custom command, and customizing the time for displaying the warning message.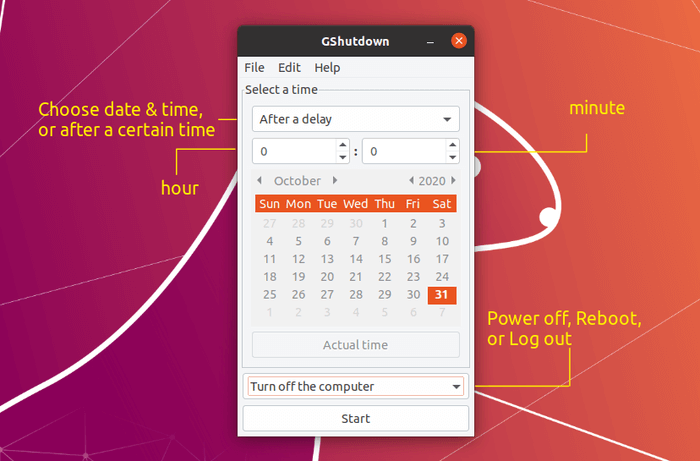 To install GShutdown, either use Ubuntu Software or run command in terminal:
sudo apt install gshutdown
3. QShutdown
qshutdown is a slim program to shutdown, reboot, suspend, hibernate the computer. It is a graphical tool that shows the time until the corresponding request is send to the gnome-, kde-session-manager or to HAL/DeviceKit if the first two won't do. Otherwise the command sudo shutdown -P now is used.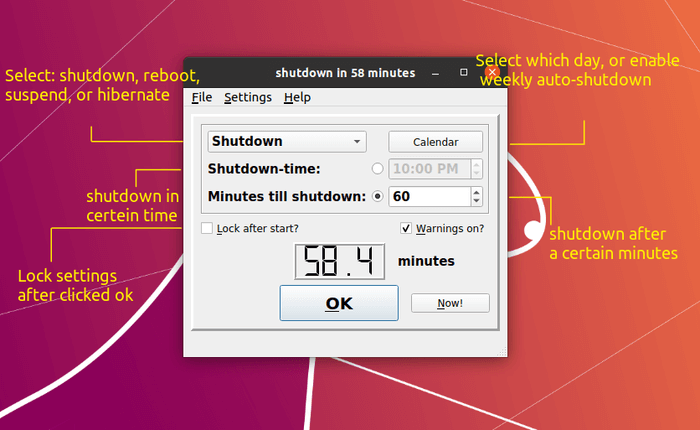 qshutdown has an official PPA which supports for all current Ubuntu release so far, including Ubuntu 16.04, Ubuntu 18.04, Ubuntu 20.04, Ubuntu 20.04, Linux Mint 18.x, 20. To install it, open terminal and run following commands one by one:
sudo add-apt-repository ppa:hakaishi/qshutdown
sudo apt update
sudo apt install qshutdown
For those OK with Linux command line, scroll down and see the previous post to do automatic shutdown via single command.