Astroncia IPTV is a free and open-source Internet Protocol television player for Linux and Windows.
It's a Qt based application that uses mpv for video playback. Astroncia IPTV itself does not provide content or TV channels, it's only a player application which streams from IPTV providers.
With the software, you can watch online TV from a M3U / XTream playlist, or using the default Free-TV. Also, it support for viewing un-encrypted streams UDP (multicast), HTTP, HLS (m3u8).
On first start of the app, it prompts to choose the default Free-TV or setup your own playlist. Though the setting is accessible later in app menu.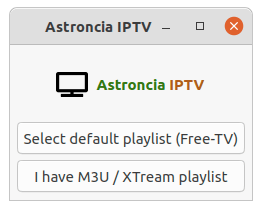 EPG Support
The IPTV player supports for EPG (Electronic Program Guide) in XMLTV and JTV formats either from a local file or URL.
There are a collection of publicly available IPTV channels from all over the world, as well as EPG for thousands of TV channels.
From "File -> Playlists" menu, you can add new channels as well as the TV guide (EPG) file or url. Importing from Linux Mint's Hypnotix is also supported!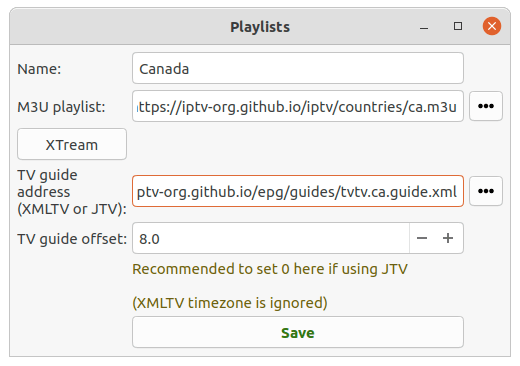 On the bottom bar, there's a 'TV guide' button allows you to toggle the menu that displays scheduling information for current and upcoming broadcast programming.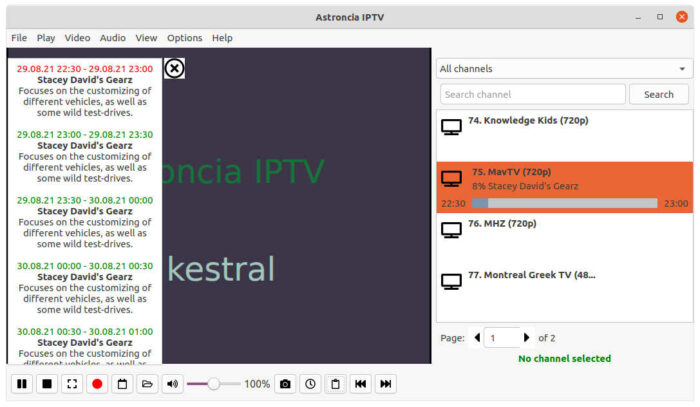 There are other control buttons, including recording TV programs, recording scheduler, screenshot, and more. And other features include shortcut keys, compact mode, filters …
How to Install Astroncia IPTV in Linux:
The software provides official packages for Linux both in .deb and .rpm package formats.
1. Ubuntu PPA
For Ubuntu users including Ubuntu 18.04, Ubuntu 20.04, Ubuntu 21.04, Ubuntu 21.10, and Linux Mint. Open terminal from start menu.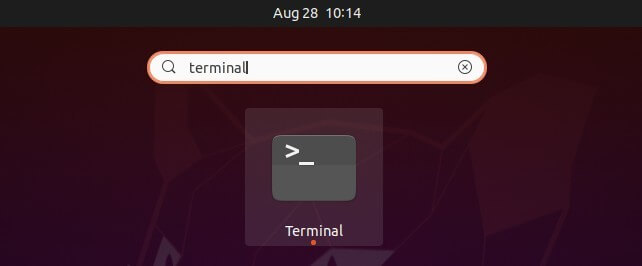 Then run following commands one by one to add the PPA and install the IPTV Player:
sudo add-apt-repository -y ppa:astroncia/iptv
sudo apt-get update
sudo apt-get install astroncia-iptv
And the AUR repository is available for Arch Linux users.
The official release page offers .exe for Windows, .deb for Debian, and .rpm for Fedora users.
As a new project there may be bugs, please report issues (from the link button above) to help improving it.