For those sticking to the Shutter screenshot capture tool, here's how to install it in Fedora 36/37 workstation.
Shutter is one of the most popular screenshot tool for Linux. It's feature-rich software with a built-in editor. Screenshots can automatically open with external apps, e.g., GIMP and Krita. And it supports for uploading image to Imgur, Dropbox, etc.
Since the development was lagging behind, some Linux Distros, e.g., Ubuntu and Fedora, was removed the tool from the main repositories. Currently, the GTK3 port is underway and the project now moved to Github.
Install Shutter in Fedora 36/37
Shutter screenshot tool has been added back into the official repositories in current Fedora releases!
Meaning user can easily search for and install it from system 'Software' app: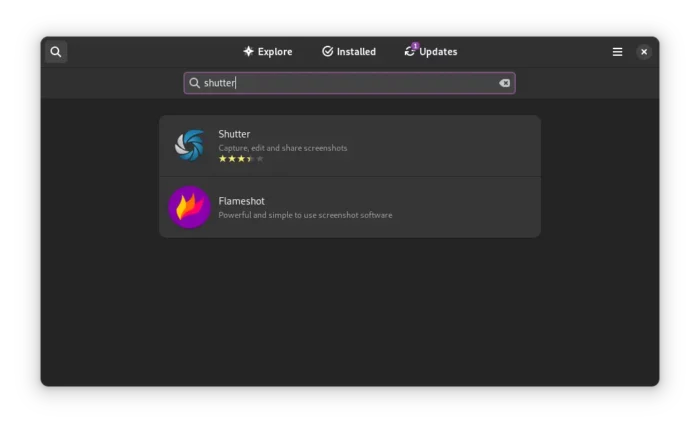 Or, open a terminal window and run the command below to install it:
sudo dnf install shutter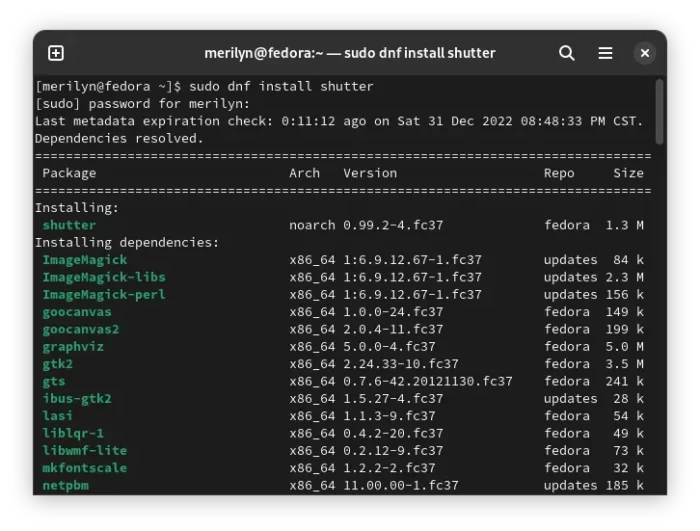 How to Install Shutter in Fedora 34 & 35:
Shutter is available in Fedora 33 repository, however removed in current 34. If you're a fan of the software, it's available to install in the third-party repository.
Once installed, click on top-left 'Activities' or go to system start menu (depends on your desktop environment), search for and launch Shutter, and enjoy!
1.) Firstly, open terminal from system app launcher. When it opens, run command to enable the repository:
sudo dnf copr enable geraldosimiao/shutter
Type user password for sudo prompt, then type y and hit Enter to enable it.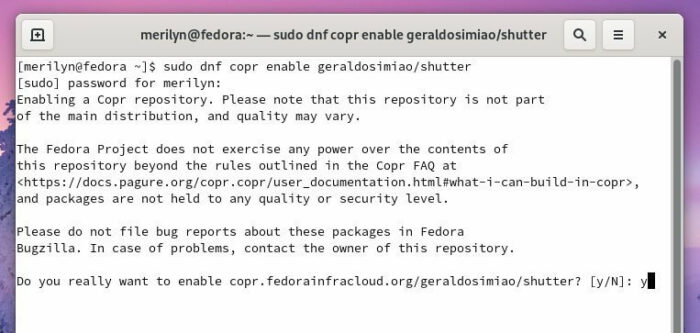 2.) After that, run command to install the screenshot tool:
sudo dnf install shutter
Though the latest release is v0.97 at present. The repository sadly contains the old v0.94.x at the moment.
3.) Once installed, open the tool from system app launcher and enjoy!
How to Remove Shutter & Copr Repository:
For any reason, you can easily remove this third-party repository via command:
sudo dnf copr remove geraldosimiao/shutter
Also, you can remove Shutter as well as unused dependencies by running command in terminal:
sudo dnf autoremove shutter