The Thunderbird email client in Ubuntu repository is finally updated to the new v115 release series!
Thunderbird 115 was released a few months ago on July 11. It's a big release that features modern new UI, which has a compact GNOME CSD style header bar, big search box in top, and updated 3-Pane window.
It has a new logo, and can now open external .eml files in a tab, supports HKP keyservers that return one key per email address, upload OpenPGP public keys to VKS and HKP keyservers, and it supports OAuth2 for Fastmail. See release note for more about Thunderbird 115.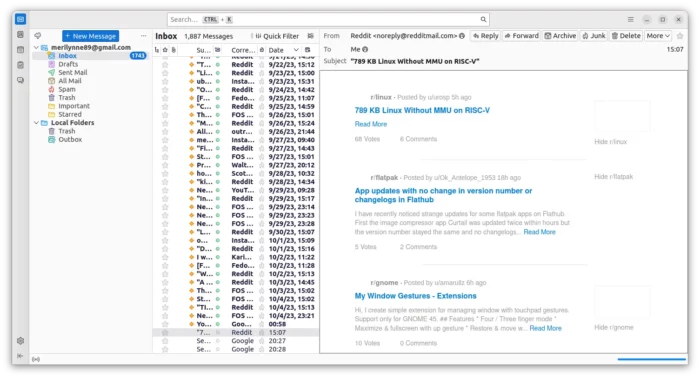 Due to regressions (see HERE), Ubuntu stuck at v102 series for a few months. Until Thunderbird 115.3.0 was released a few days ago, Ubuntu finally updated the email client to the latest for Ubuntu 20.04, Ubuntu 22.04, and Ubuntu 23.04. Though, accent color for the new email client is still not working.
How to Upgrade to Thunderbird 115
If you've been using Thunderbird 115 through the Snap package installed from Ubuntu Software, just remove the package either from Ubuntu Software or by running command in terminal (Ctrl+Alt+T):
sudo snap remove thunderbird
Then, install back the latest .deb version by running command:
sudo apt install thunderbird
For those sticking to the previous v102, and users of Mozilla Team PPA, simply launch Software Updater to update Thunderbird to 115.