As you may know, GNOME Desktop version 43 introduced new "Device Security" page in Gnome Control Center.
Fedora 37 and Arch/Manjaro Linux included the new feature in their latest GNOME DE edition. Ubuntu somehow excluded it in Ubuntu 22.10.
"Device Security" a sub-menu page of Privacy in Settings (aka Gnome Control Center). When you have the system installed on a real machine, it is present to tell that if secure boot enabled, security level of physical hardware, and recent security events.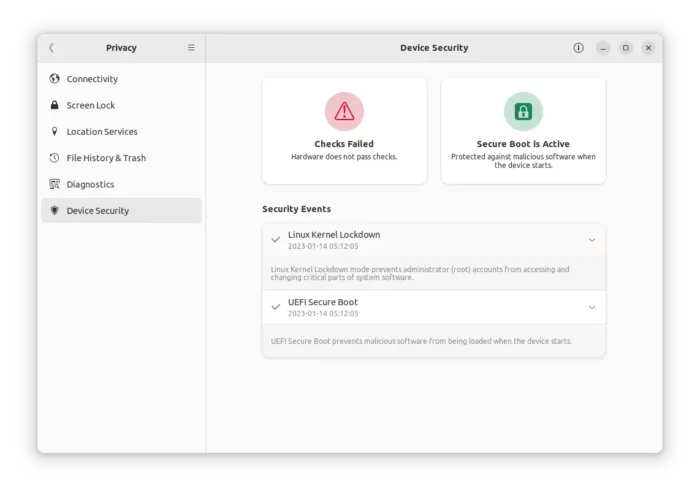 Each item in that page is clickable to either pop-up a detailed page or extend for displaying more information. As the screenshot shows, the hardware security level check is somehow failed in my case.
As well, there's a exclamation mark icon on the header-bar. By clicking on it will pop-up the "About Device Security" dialog for more about the setting page.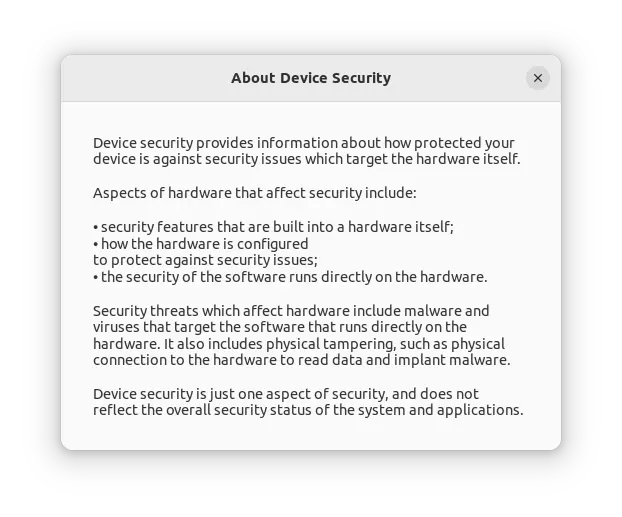 In the recent update for Ubuntu 23.04 daily build, Ubuntu added back this feature by updating GNOME Control Center to version 44 alpha. But, keep in mind that things may change in the final release!