Ubuntu 20.04 LTS got a new point release on Mar 23, 2023. The Ubuntu team announced that:
Unlike previous point releases, 20.04.6 is a refresh of the amd64 installer media after recent key revocations, re-enabling their usage on Secure Boot enabled systems.

Many other security updates for additional high-impact bug fixes are also included, with a focus on maintaining stability and compatibility with Ubuntu 20.04 LTS.
Ubuntu 20.04 was released on April 2020. It's a long term support released with 5 years support! According to the change log, the new point release improved hardware support for following devices:
Lenovo ThinkCentre M70t/M80t Gen 3.
Lenovo ThinkPad P14s/T14 Gen 2a.
Lenovo ThinkPad T14s/X13 Gen 2a.
Lenovo ThinkCentre neo 50s Gen 3.
Sutton Newell Caia.
Sutton Newell Cai.
Sutton Simon Cais.
Sutton Newell Abdiel.
It also updates the "Software & Updates" utility by replacing the "Livepatch" integration with "Ubuntu Pro". Other changes include:
Fix slow refresh rate with AMD GPU Screen output in reverse prime mode.
Update AD SYStem integration by adding GSettings power management keys
Fix samba interoperability with Windows 11 22H2.
Fix starting a salted session fails when using an RSA key in FIPS mode
Add support for open kernel module or driver in nvidia-515
Support EM120/160 firmware update
Add sdio firmware for qca9377 wifi module
For more about Ubuntu 20.04.6, see the change summary.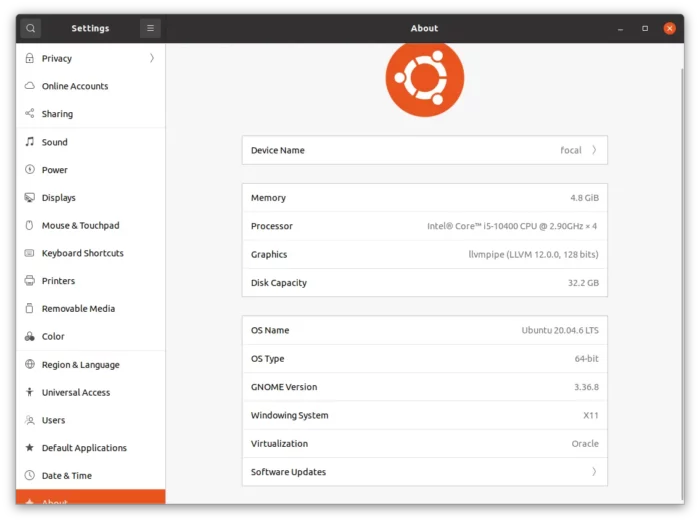 Get Ubuntu 20.04.6
If you're now running Ubuntu 20.04.x, just install all available updates either through Software Updater or by running sudo apt upgrade command in terminal. Then, you can verify by opening 'Settings' and navigate to 'About' page.
For Ubuntu 18.04, you may follow the official guide to upgrade to Ubuntu 20.04.6. For the diso image, go to: