A new monthly release of Firefox web browser is out today.  Now, it's Firefox 119.0.
The new release changed "Firefox View" button to a folder icon, which can be accessed in the top-left corner of browser window. By clicking on it, will open the tab to see all open tabs from all windows, see all synced tabs from other devices.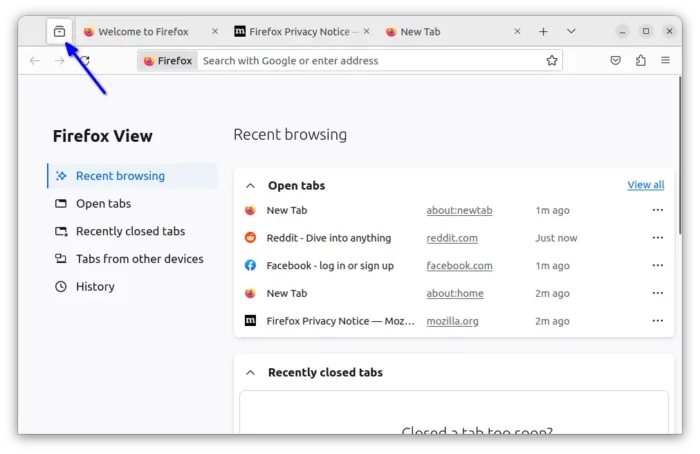 The release also improved PDF editing support. In addition to text and drawings, it now allows to edit PDFs by adding images and alt text.
Firefox 119 is also safer on web browsing. It supports the partitioning of Blob URLs, which mitigates a potential tracking vector that third-party agents could use to track an individual.
It also restricts website fonts to system fonts and language pack fonts in Enhanced Tracking Protection strict mode. And, introduces Encrypted Client Hello (ECH) for a more private browsing experience. ECH extends the encryption used in TLS connections to cover more of the handshake and better protect sensitive fields.
Other changes in Firefox 119.0 include:
Ability to import some of extensions from Chrome.
Add Santali (sat) language support.
Fix an issue causing unexpected jumps in scroll position on Facebook.
Update the Storage Access API web standard to improve security.
Recently closed tabs now persist between sessions that don't have automatic session restore enabled. Manually restoring a previous session will continue to reopen any previously open tabs or windows.
Get Firefox 119.0
The official release note, as well as the download link will be available soon via the link below:
For choice, you can also download the package via the FTP download page.
For most Linux, your system developer will publish the new release package in next few days. And, for Ubuntu 22.04 and higher who hate the pre-installed Snap package, Mozilla Team PPA has been updated with the new 119 packages, though you need to manually set PPA priority.