For users of Mozilla Firefox, a new monthly release is available to download now!
The new Firefox 120.0 continue improving web security, it now has an "Copy Link Without Site Tracking" option in the right-click menu of any web link.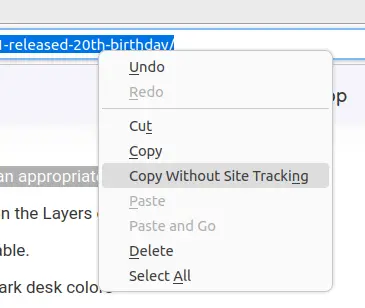 In Privacy & Security setting page, there's now a Global Privacy Control (GPC) to tell websites not to sell or share my data.

Other security improvements include:
Enhance the Canvas APIs with Fingerprinting Protection for private windows.
For all users in Germany, Cookie Banner Blocker and URL Tracking Protection are enabled by default in private windows.
For Ubuntu users, it can now import from Chromium to Firefox, when both browsers are installed as Snap. And, Picture-in-Picture now supports corner snapping on Windows and Linux – just hold Ctrl as you move the PiP window.
Other changes in Firefox 120.0 include:
Imports TLS trust anchors (e.g., certificates) from the operating system root store, which is enabled by default on Windows, macOS, and Android.
Add keyboard shortcut to edit (Alt+Enter) and detele (Alt+Backspace) a selected credential on about:logins page.
WebAssembly GC is now enabled by default, which allows new languages, such as Dart or Kotlin, to run on Firefox.
lh and rlh units can now be parsed and computed correctly as lengths.
Add User Activation API.
Early Hints Preconnect, the informational status code 103, is now enabled.
Users can now use devtools feature to simulate browser tabs to be offline.
The Style Editor panel now features a new "Pretty Print" button, which, can be used to format stylesheets (e.g., those that are minified).
The Rules panel within the Inspector panel now displays colors in the new CSS Color 4 formats (e.g., OKLCH) as hexadecimal/named colors
And various security fixes.
Get Firefox 120.0
The official announcement as well as download link are not ready at the moment, but will be available soon via the link below:
For those who can't wait, go to the ftp download page for the new 120 release package.
For most Linux users, your system will build the latest Firefox package into system repository. So, just wait and keep system up-to-date.
And, for Ubuntu Mozilla Team PPA now includes the new release package. However, you have to set PPA priority to avoid Snap.