Ubuntu 20.10, codenamed "Groovy Gorilla", was officially released today as the 33rd release of the most popular Linux distribution.
Ubuntu 20.10 will be supported for 9 months until July 2021. If you need Long Term Support, it is recommended you use Ubuntu 20.04 LTS (5-year support) instead.
Ubuntu 20.10 features GNOME 3.38 desktop environment, Linux Kernel 5.8. With the updated kernel, you'll get:
Better WiFi connection quality.
USB 4 (Thunderbolt 3 protocol) support.
X86 Enable 5-level paging support by default
Intel Gen11 (Ice Lake) and Gen12 (Tiger Lake) graphics support
Initial support for AMD Family 19h (Zen 3)
Thermal pressure tracking for systems for better task placement wrt CPU core
XFS online repair
OverlayFS pairing with VirtIO-FS
Active State Power Management (ASPM) for improved power savings of PCIe-to-PCI devices
Initial support for POWER10
Other features include:
Updated Toolchain: glibc 2.32, OpenJDK 11, rustc 1.41, GCC 10, LLVM 11, Python 3.8.6, ruby 2.7.0, php 7.4.9, perl 5.30, golang 1.13.
First release with desktop images for the Raspberry Pi 4.
Updated applications.
Download Ubuntu:
To get Ubuntu 20.10 Desktop, Server, as well as its flavors, go to:
Upgrade from Ubuntu 20.04 to Ubuntu 20.10:
To upgrade your current Ubuntu 20.04 LTS to Ubuntu 20.10, do following steps one by one:
First make a backup of all your important data.
Then disable all third-party PPA repositories.
Launch Software Updater and install all available updates. And restart if it asks.
Launch Software & Updates, and go to Updates tab. Select 'Notify me of a new Ubuntu version: For any new version'.
Launch Software Updater again and you'll see the prompt to upgrade to Ubuntu 20.10.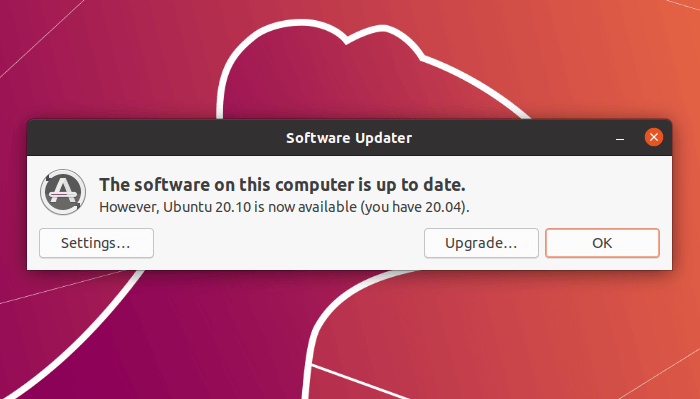 read more on Ubuntu Fridge.