Want to enable keyboard shortcut to toggle on / off app window "Always on Top" function? Here's how to do the job in Ubuntu 20.04 & Ubuntu 22.04 default Gnome desktop.
The Gnome desktop does not have keyboard shortcut to toggle "Always on Top" feature out-of-the-box. You can however set one using Dconf database via following steps.
Search for and install dconf Editor via Ubuntu Software if you don't have it.
Open the dconf Editor, and click on "I'll be careful" button.
Then navigate to org/gnome/desktop/wm/keybindings, scroll down and click go to settings of "Always on Top". Then do:

turn off "Use default value".
type a shortcut key in "Custom value" area: use <Control>, <Alt>,  and/or <Shift>,  with number, or letter as key combination. And formatted with ["]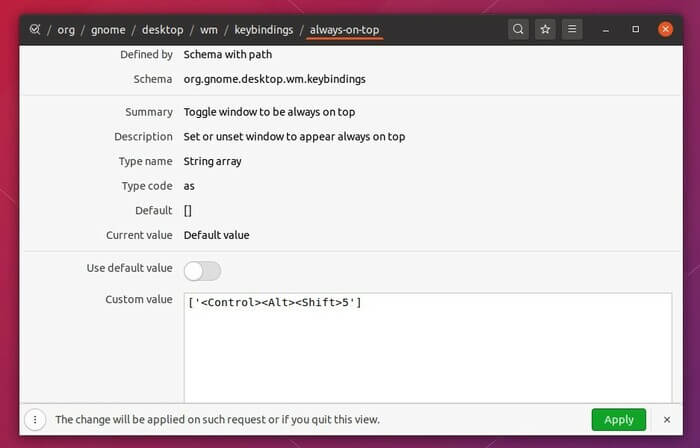 Finally click on apply button and enjoy!