Got some beautiful photo images? Here's how to easily set them as desktop wallpaper and change automatically with certain time interval in Ubuntu 18.04, 20.04, 21.10.
There are quite a few tools available for Linux to create wallpaper slideshows. Besides trying them out one by one, Shotwell is there in Ubuntu out-of-the-box which can do the trick.
Set Desktop Slideshow via Shotwell:
1. Open Shotwell
Firstly, click on top-left 'Activities' to bring up the overview screen. Then search for and open Shotwell photo manager: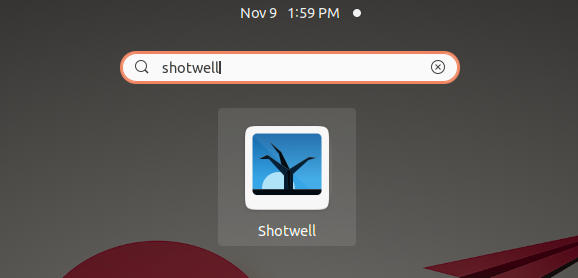 The popular image organizer app is available in most Linux repositories. If you're running another Linux, e.g., Debian, Linux Mint and Fedora, try installing it from app store (Software app).
2. Set Photos as Desktop Slideshow:
Shotwell by default import photos from your user Pictures folder. Use "File -> Import From Folder" menu to import your photos if they are not displayed.
Next, select a collection of photos by holding either Ctrl key and clicking one by one, or Shift key to select from one image to another.
Finally, go to menu "File -> Set as Desktop Slideshow". In pop-up dialog, drag the slider to set the time interval between 5 seconds and 1 day.
The desktop slideshow works immediately after you clicked OK. It works by creating a XML file and sets in desktop background settings. So, the slideshow keeps working without Shotwell anymore even after reboot, until you select another background in system settings.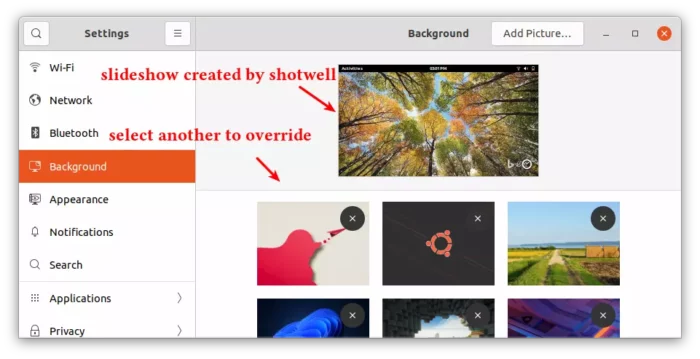 Sadly, it won't save the slideshow in background settings for use sometime later. You may find the XML file along with a copy of optimized photos in .local/share/shotwell/wallpaper. Note it's hidden folder that needs Ctrl+H shortcut to toggle display in file manager.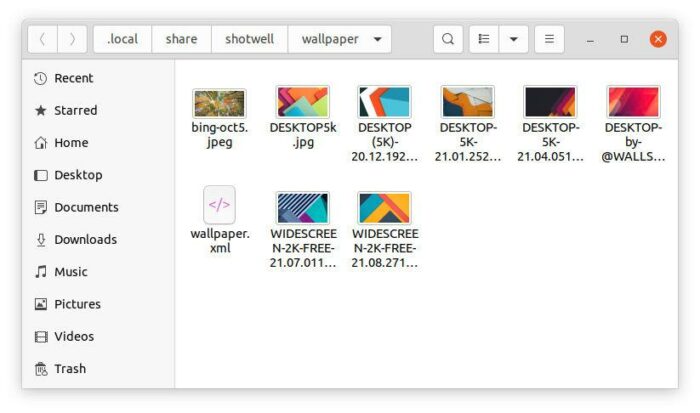 That's all. Enjoy!