KDE Plasma desktop announced the new 5.27 release a day ago! See what's new in this popular Linux desktop environment.
Plasma 5.27 is a Long Term Support (LTS) release with about 2 years support. It features a new window tiling system, that allows to auto-resize and place app windows side by side in screen.
As the top feature image shows, user can press Windows logo key and T on keyboard to enter to tiling layout screen. Then, customize the layout and press Esc to exit. Finally, press and hold Shift on keyboard and dragging app windows to use the feature.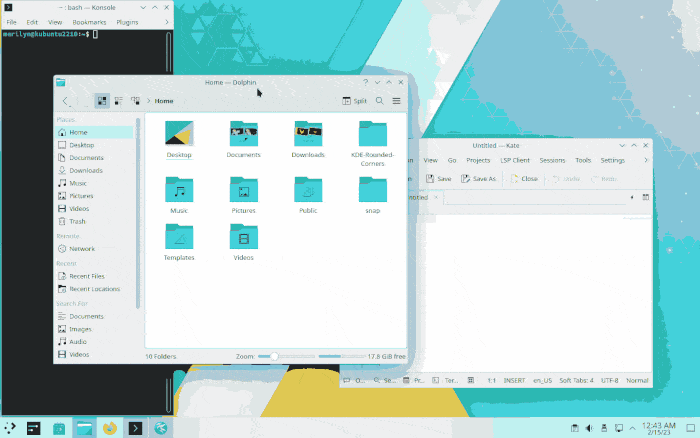 The release also introduced new welcome screen. However, it does not open automatically in my test even with a new created user account.
System Settings has been improved by moving options to make it look cleaner. Discover (App Store) now can perform system updates from within the desktop. As well, there are many other changes include:
Search time in another location, dictionary definition in KRunner.
Show the Hebrew calendar in Digital Clock widget.
Bluetooth widget can show the battery status of connected devices
System Monitor can detect power usage for NVIDIA GPUs
Wayland session now support for the Global Shortcuts portal.
New kde-inhibit --notifications to enable "Do Not Disturb" mode.
How to Get KDE Plasma 5.27
For KUbuntu users, the new 5.27 release will be made into the KUbuntu Backports PPA.
Arch and Manjaro Linux will ship the new desktop packages soon in next few days. And other Linux can see this page for Live Images.