Mozilla Firefox 106, a new monthly update of the popular web browser, is released. See what's new!
In the new release, user can now sign PDFs. Simply drag and drop PDF file into web browser window, then you'll see the little pencil icon to sign with custom color and opacity. Also, there's little cursor icon to insert text in different color and sizes.
And, you may press Ctrl+Z to Undo or Ctrl+Y to Redo changes you made on PDF. Finally, press Ctrl+S to save file. For Microsoft Windows, when you set Firefox as default browser, it will also use the browser to open PDF as default.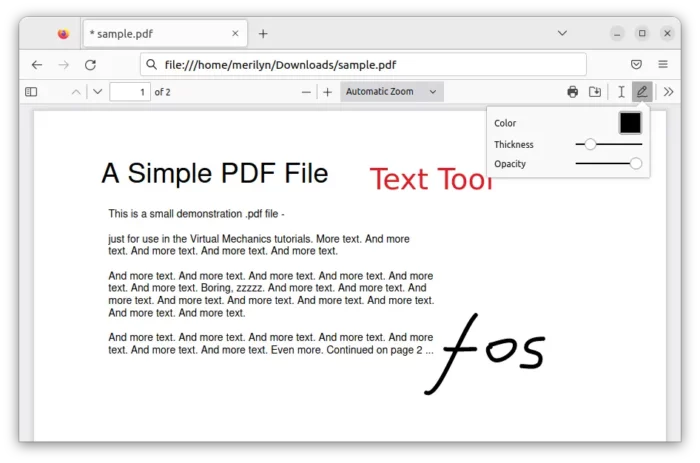 Firefox 106 introduced initial support for Text Recognition, however for macOS 10.15 (Catalina) or higher only.
It could be inaccurate to call it OCR, since it extract text from whole selected photo images via right-click (shift+right-click or double-right-click) menu option. Then, it save the text into clipboard for share, store or other use. The feature is also compatible the built-in "VoiceOver" screen reader.
Another big change in the release is 'Firefox View'. It's a pinned tab in top-left corner. By clicking on it will open the page to quickly access recent closed pages, open pages from other devices (need login), and choose from 6 color schemes until January 17, and each has 'soft', 'balanced', and 'bold' styles.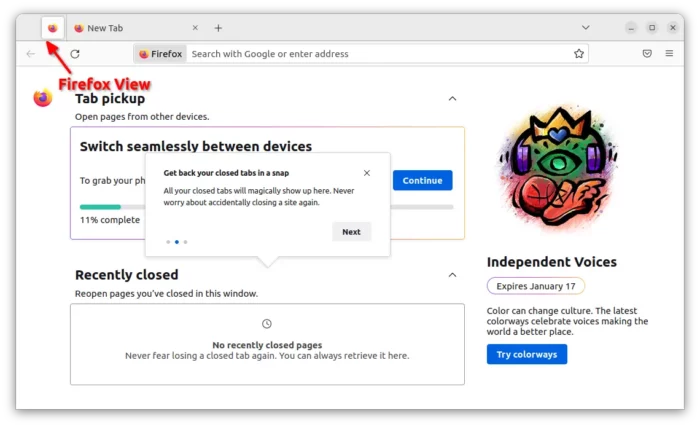 Other changes in Firefox 106 include:
Redesigned private window (see top feature image).
Allow to pin private into MS Windows' taskbar.
2-finger swipe left/right to navigate back/forward in Linux Wayland. In Ubuntu, I have to add new line export MOZ_ENABLE_WAYLAND=1 in '/etc/profile' and re-login to run Firefox with wayland support.
Better screen sharing for Windows and Linux on Wayland
Lower CPU usage and increased frame rates during WebRTC screen capture on macOS.
Other WebRTC improvements due to upgrade libwebrtc library to 103
Security fixes.
How to get Firefox
Most Linux systems will update the latest Firefox packages into they own system repositories. Just keep your system updated and you'll get Firefox 106 soon.
For Ubuntu 22.04+ that prefer Firefox as native .deb package, go to mozillateam PPA or see this step by step how to guide.
For macOS, Windows, as well as the official release note, go to: