For Ubuntu, Fedora Workstation, and other Linux with GNOME (e.g., Debian and Arch Linux), you can configure more about the desktop appearances via extension!
Usually, we use Gnome Tweaks, system settings (Gnome control center), as well as dconf editor to configure the desktop.
That's however not enough for advanced users or those need specific settings. So, "Just Perfection" presents to customize GNOME Shell with extra options!
Which Options does Just Perfection provide:
With the extension, you may configure the desktop UI and behavior with following more options:
Disable/Re-enable the (left or bottom) Dock (aka Dash).
Show/Hide top bar.
Hide top bar items: Activities, App Menu, Clock menu, system menu
Toggle display world clock, weather, calendar, events in Clock menu.
Toggle display notification bubble and position.
Add icon for 'Activities'.
Move top-bar to bottom.
Configure top-bar size, its icon size, and padding.
Login to blank desktop instead of overview.
Change Clock menu position.
Disable and/or change animation speed.
Type to search in overview, even without focus of search entry.
And more.
The extension keeps updating with more and more useful configure options. And, it provides pre-defined profiles allows to quickly toggle your desktop in different appearances.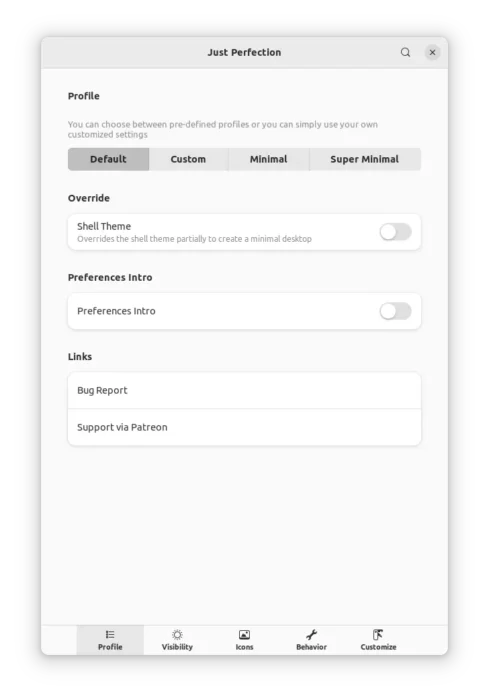 Each profile is customizable as need via the bottom tab options (see the screenshots below):
How to Install the Extension:
The extension works from GNOME 3.36 to GNOME 42, which means you may run it in Ubuntu 20.04, Ubuntu 21.10, Ubuntu 22.04, Debian 11, Fedora 34/35/36, Arch and Manjaro etc.
1. (For Debian/Ubuntu only) Ubuntu users need to first install the chrome-gnome-shell package first (press Ctrl+Alt+T to open terminal):
sudo apt install chrome-gnome-shell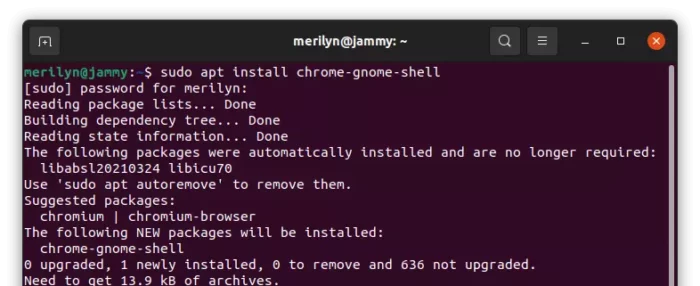 2. Then go to the extension page, and turn on the slider icon to install it:
Install browser extension and refresh the page if you don't see the on/off switch.
For Ubuntu 22.04/21.10 with Firefox as Snap, use another browser or install Firefox as Deb.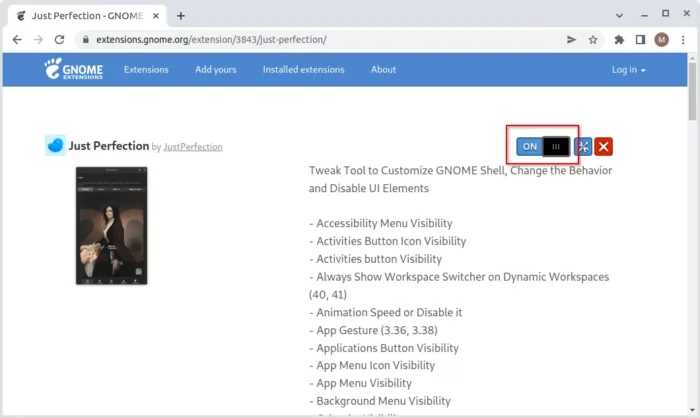 Open Just Perfection settings page
To get the configuration page, you need to first install the 'Gnome Extensions' app.
Firstly, search for and open 'terminal' from activities overview screen. When it opens, run command:
For Debian/Ubuntu:

sudo apt install gnome-shell-extension-prefs

For Fedora use command:

sudo dnf install gnome-extensions-app
Next, launch the tool by searching from the overview screen: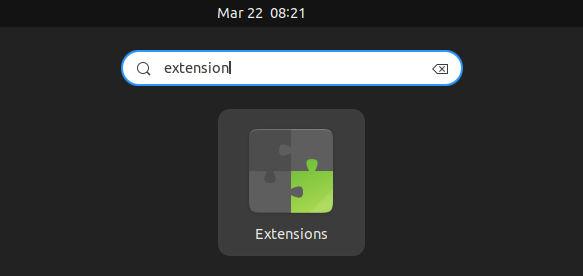 And finally click 'Settings' option under that extension and enjoy!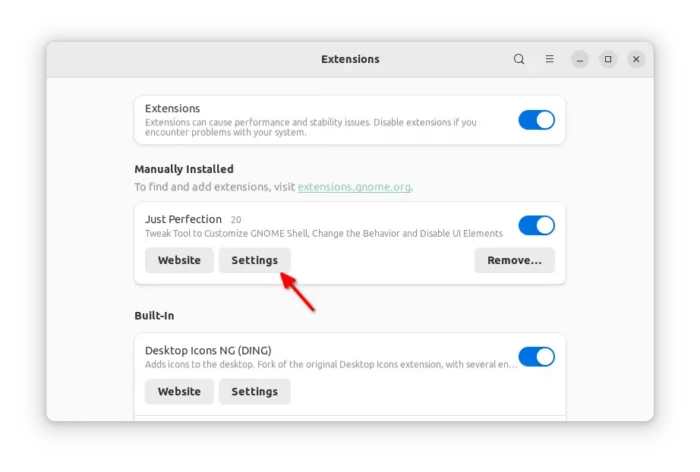 Tip: the Just Perfection settings window height is too big for PC/laptop with small display (low screen resolution). As a workaround, press Alt+F7 and move cursor to move window beyond screen top.