The Ubuntu Team announced the new short term release, Ubuntu 23.04 "Lunar Lobster", a day ago!
Ubuntu 23.04, codenamed "Lunar Lobster", is here. This release continues Ubuntu's proud tradition of integrating the latest and greatest open source technologies into a high-quality, easy-to-use Linux distribution.
…
Ubuntu 23.04 has 9 months support until Jan 2024. Like Fedora 38, it features Linux Kernel 6.2 with performance boost for Older Intel Skylake CPUs, support for Intel Arc graphics DG2/Alchemist, new Intel TDX guest driver, and support for Sony DualShock 4 gamepads.
This Ubuntu Kernel also supports for building and running out-of-tree Rust modules, and includes newer LSM stacking and AppArmor patch set.
The desktop edition feature GNOME 44 with following changes:
New Lock/Login Screen.
New "background apps" section in system tray menu.
Display QR code when enabling WiFi hotspot.
Big icon view in file chooser.
Redesigned 'Mouse & Touchpad', 'Accessibility' settings page.
Expandable folders in List View mode
Wireguard VPN support.
Another notable change in Ubuntu 23.04 is the new installer wizard. It's a Flutter app that runs faster than the classic one. While, also looking good and modern.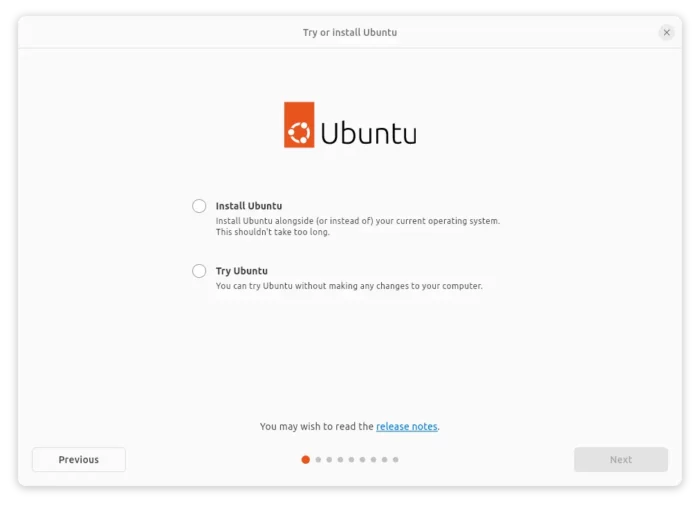 Other changes in Ubuntu 23.04 include:
Toolchain updates: OpenJDK 17, Python 3.11, .Net 7, Rust 1.67, golang 1.20, Ruby 3.1.
New default fonts.
Support for enterprise proxy, app confinement and network shares in Active Directory (AD) Integration.
See release note for more.
Get Ubuntu 23.04:
The official iso images for Desktop, Server, Cloud, loT, and other flavors are available to download at the link below:
For Desktop users, here's a step by step guide shows you how to install the Ubuntu 23.04.
Ubuntu 22.10 user can upgrade to Ubuntu 23.04. Just open Software Updater and install all available package updates. Reboot if it prompts, finally open terminal (Ctrl+Alt+T) and run command:
update-manager -c
It should launch "Software Updater" and prompt that Ubuntu 23.04 is available (with Upgrade button) after checking for updates.