Ubuntu 18.04 Bionic Beaver will reach end of its standard support soon on Wednesday, May 31, 2023!
Ubuntu 18.04 is an earlier LTS released in April, 2018. As a LTS release, it has 5 year standard support. During the support period, user can receive patches, updates, and feature improvements from both main (Canonical support) and universe (Community support) repositories.
With standard support, user can also get support by forums, askubuntu, IRC and other places where the community lives.
Now all of these standard support for Ubuntu 18.04 will be gone at the end of this month!
Upgrade to Ubuntu 20.04 | 22.04 or Enable 5 Years More ESM Support
Users are encouraged to upgrade to Ubuntu 22.04 (standard support until 2027) or Ubuntu 20.04 (standard support until 2025). And here are the official upgrade guides:
The upgrade process might fail, especially for Desktop edition!! So, it's highly recommended to backup your data first! Or, go this page to download Ubuntu .iso image and do a fresh install.
If you stick to Ubuntu 18.04 for running legacy solutions, Ubuntu also provides 5 years more 'Extended Security Maintenance' (ESM) support.
The ESM support is free for personal use for up to 5 machines. It only provides security updates for main repository packages.
ESM support is provide through Ubuntu Pro service. To enable it, first open terminal (Ctrl+Alt+T) and run command to install all package upgrades:
sudo apt update && sudo apt upgrade
Then, open "Software & Updates" and navigate to the last "Ubuntu Pro" page and finally click on "Enable Ubuntu Pro" button.
NOTE: It opens a web page to authenticate and you need to register an account first to enable this feature.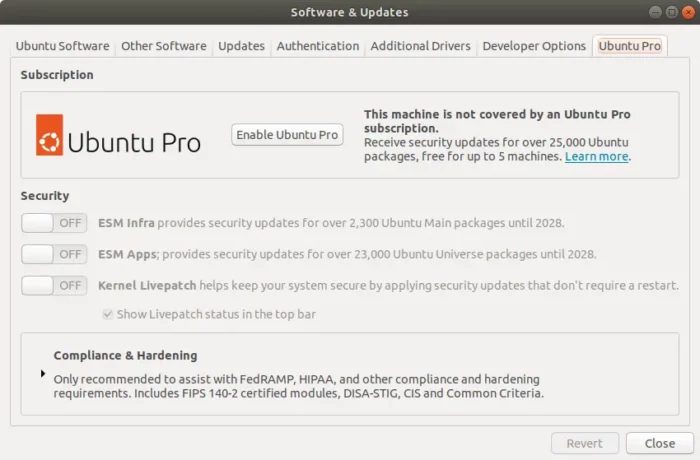 For more details and Ubuntu 18.04 Server, see this step by step tutorial.