The popular digital painting software Krita got a new major release today! See what's new & how to install instruction.
Krita 5.1 introduced even more operations for multiple layers. Which, enables copy, cut, paste and clear on when having a selection on multiple layers at once.
The release also improved the compatibility with Photoshop files. It supports loading the Photoshop layered Tiff files. And, it reworked the export dialog to load and save metadata to Tiff.
JPEG-XL is the next-generation of JPEG image format, that supports both lossy and lossless compression. It's a royalty-free raster-graphics file format with supports lossless JPEG transcoding, and full support for wide gamut and HDR.
Many image tools, such as gThumb and GIMP has added it support in recent releases. And, Krita adds JPEG-XL support in this 5.1 release.
The backend in Krita has now switched from VC to XSIMD, which brings ARM devices support and better performances.
Other changes in Krita 5.1.0 include:
Paint on selection masks with blending modes
Full WebP image support.
OpenExr 2.3 and 3+ support.
Load and save fill layers and color labels to PSD.
Support for ASE and ACB color palettes
Fix OpenGl ES for OCIO pipeline
Add YCbCr profiles
Support for llvm-mingw toolchain on windows
Support building with RISC-V
Specific color selector now has color preview and HSV option for RGB
Configurable touch gestures.
Add "continuous fill" (click and drag) capabilities to the fill tool
Add "Enclose and Fill" tool
Improve color drag & drop on the canvas
Gui option to configure max brush speed
Sketch Brush Engine now has anti-aliasing available
For more changes, see the release note.
See What's New in Krita 5.1 via Video
Get & Install Krita 5.1:
Krita offers official Linux package as AppImage, along with other system packages, they are available to download at the link below:
The AppImage is a non-install package. Simply right-click file and add executable permission in its "Properties -> Permissions" dialog. Finally, run it will launch the painting software.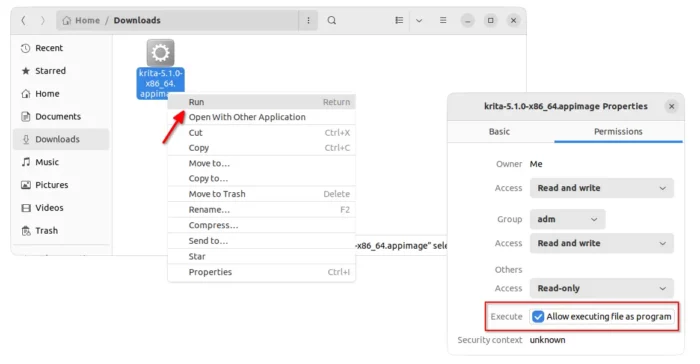 It's also available to install via universal Flatpak package. First follow the setup guide to get the daemon. Then, user may run the bottom command in the page below to install it in most Linux: