Want to listen to radio on your Linux Desktop? Here are some popular internet radio players you can try in 2021.
1. Rhythmbox.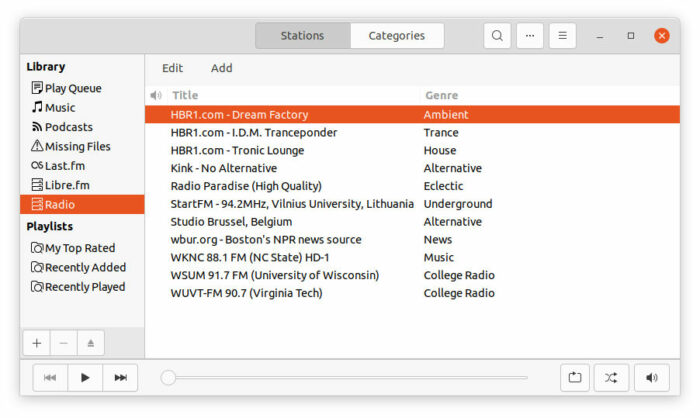 Rhythmbox is a free and open-source music player application for Gnome. It's the default app in many Linux Distros, including Ubuntu, Fedora, Linux Mint. So you can open it from system app launcher directly.
The player has built-in support for Last.fm, the world's largest online music service. As well, it supports for Libre.fm, a Free Software replacement for last.fm. There are also some radio stations available by default.
2. Shortwave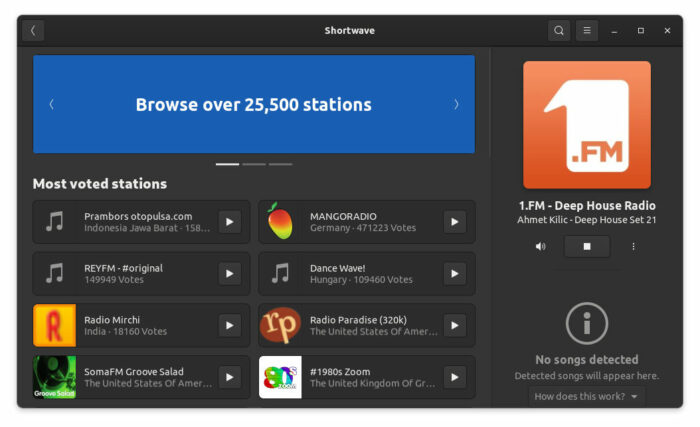 Shortwave is a free and open-source app for Gnome.
Without an account, it provides over 25500 internet audio stations for free listening with single click. If your favorite station is missing, it provides options to add your own.
See how to install Shortwave in Linux.
3. Lollypop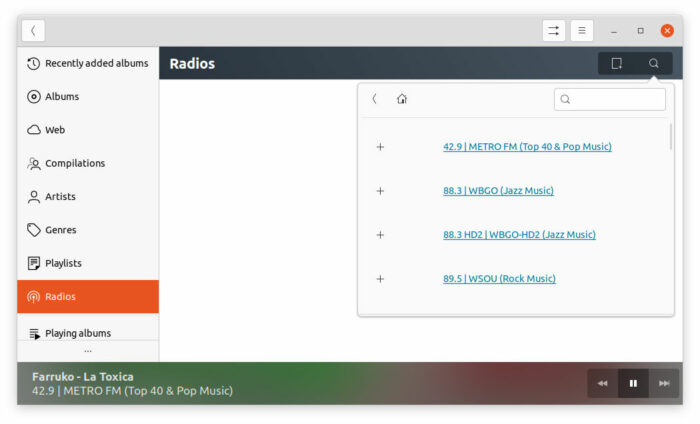 This is another free and open-source music player application for Gnome with radio integration.
Lollypop is a lightweight modern music player pre-installed in some Linux Distros, e.g., Manjaro. With it, you can listen to Last.fm, Libre.fm, ListenBrainz, as well as other online music services, e.g., YouTube, Spotify.
And it can search for and listen to TuneIn, free internet radio service.
4. Goodvibes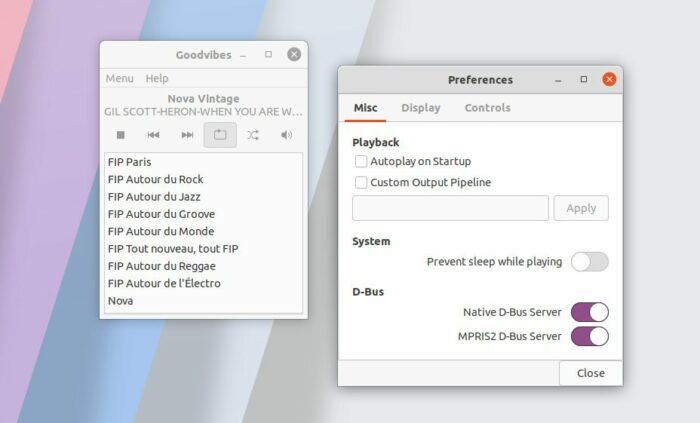 Goodvibes is a tiny internet radio play for Linux.
It's free software with MPRIS2 support. However, it comes with only some radio stations but no search function support. For more stations, you have to enter the URL of the audio streams from menu. See list of internet radio stations from Wikipedia.
5. Tuner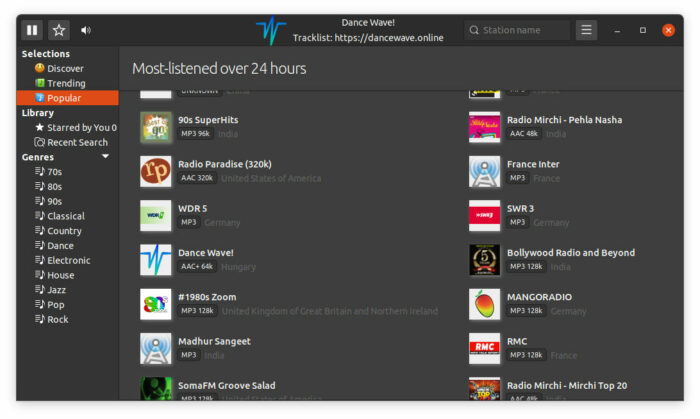 Tuner is another free and open-source internet radio player.
The player comes with dozens of radio stations and discover new stations every day. And it uses radio-browser.info catalog, a community driven effort with collections of internet radio and TV stations.
6. Elisa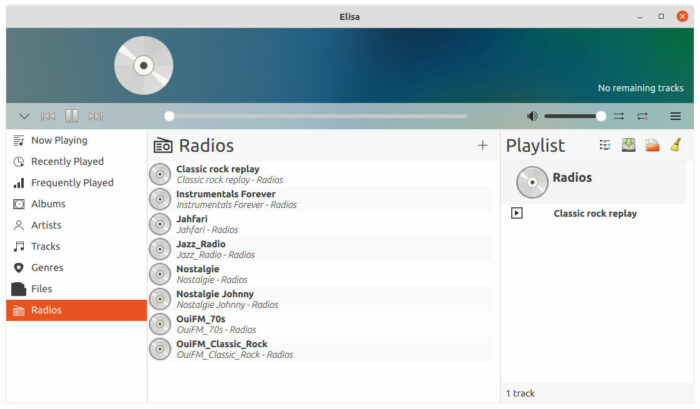 Elisa is a KDE music player application with internet radio playback support.
It comes with a few radio stations, e.g., classic rock replay, instrumentals forever, jazz radio, ouifm 70, etc. And a '+' icon is available to add more stations by entering the URL.
7. Great Little Radio Player: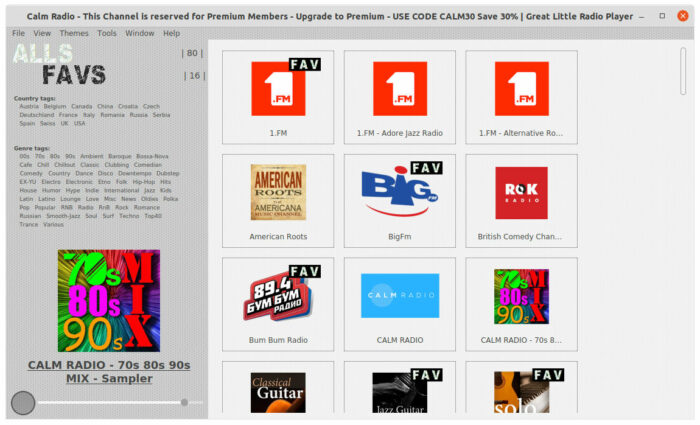 The 'Great Little Radio Player' is a robust internet radio station streamer works on Windows, Linux, and Mac OS.
The player comes with dozens of stations out-of-the-box. As well, the software has many built-in themes to make the app window look modern.
8. Pithos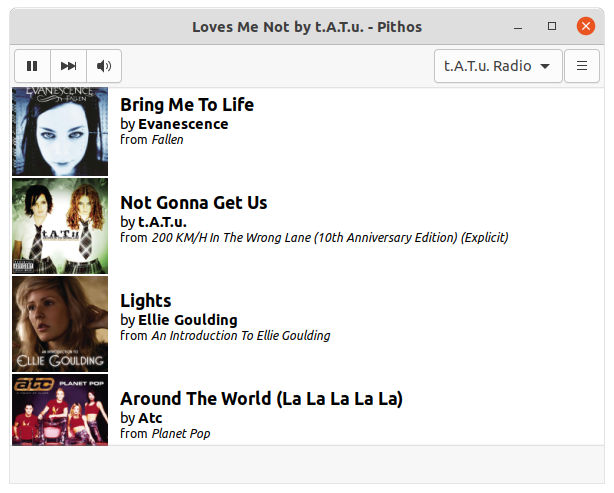 Pithos is a easy to use native Pandora Radio client.
It provides a simple interface to listen to Pandora music streaming service. It supports most functions such as rating songs, creating/managing stations, quickmix, etc. On top of that it has features such as last.fm scrobbling, media keys, notifications, proxies, and mpris support.
9. Cantata (Discontinued)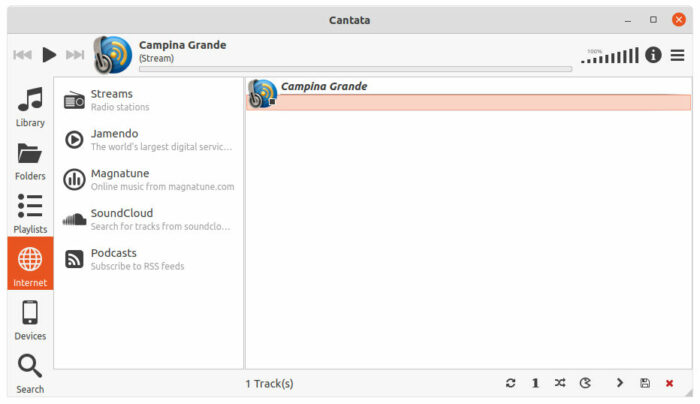 Cantata is a free and open-source client for Music Player Daemon (MPD) that works on Linux, Windows, and Mac OS.
The player supports for online services such as Jamendo, Magnatune, SoundCloud, and Podcasts. It also comes with radio stream support, with ability to search for streams via TuneIn, ShoutCast, or Dirble.
Cantata is available in most Linux Distros' own repositories. You can search for and install it from your system app store.
10. Radiotray-ng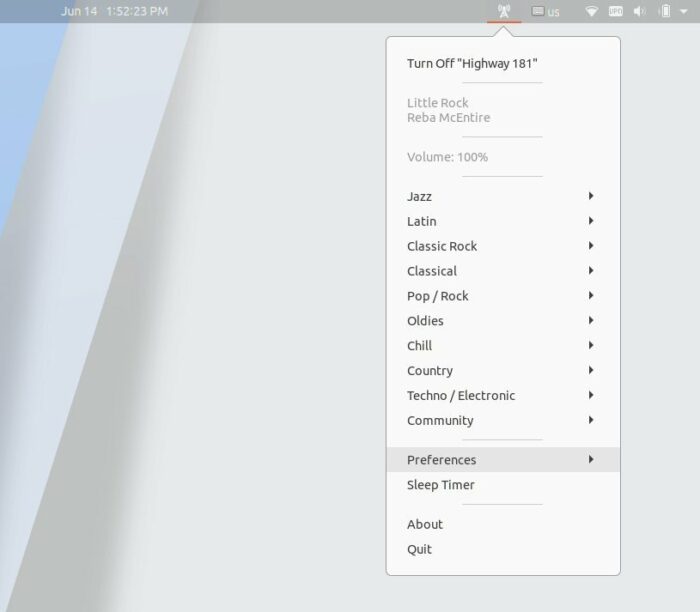 Radiotray-ng is a free open-source internet radio player that works as system tray indicator.
The player comes with a list of radio player out-of-the-box. You can add your own stations, or edit the indicator menu with its own 'Bookmark Editor'.
The development of the software is however a little bit lag behind. The newest Linux distributions may not be supported via the official packages.
(NEW) 11. Soma Radio: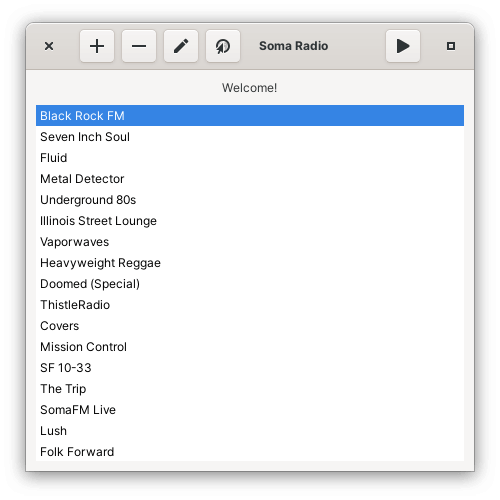 This is a new GTK app provides a modern and easy to use interface to listening internet radios from 38 built-in stations from somafm.com. As well, it has an option to add you own ratio stations.
Soma Radio is available to install as universal Flatpak package. User has to setup the daemon and install it from Flathub repository.
(NEW) 12. Radio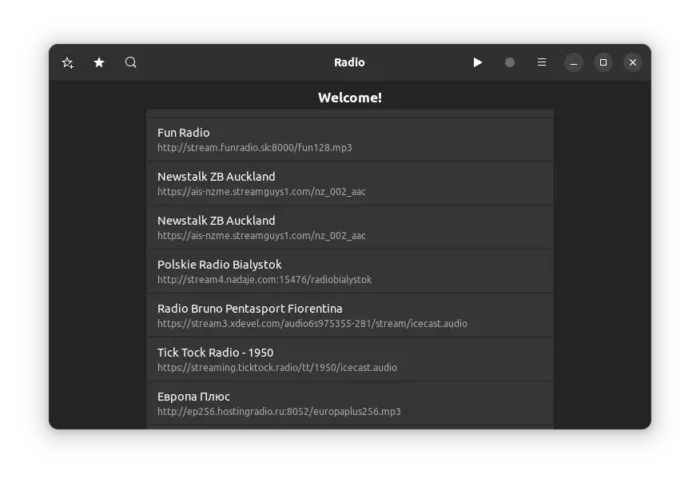 This is a radio application for radio-browser.info, a free and community driven project with collection of internet radio stations.
It's a GTK4 app that looks native in Ubuntu, Fedora workstation and other GNOME based systems. And, it follows system color scheme by automatically changing the UI color between light and dark mode. Other features include search function, favorite, and ability to record radio stream to mp3.
This radio app is available to install in most Linux via Flatpak package, see it in flathub.org.
If you get more internet radio player applications, feel free to leave a comment here.