This is a beginner's guide shows how to install the latest Kdenlive video editor in Ubuntu / Linux Mint in 2 ways.
Kdenlive, KDE Non-Linear Video Editor, is a free open-source video editing software based on the MLT Framework, KDE and Qt. It works on Linux, Windows, and BSD.
Kdenlive is available in Ubuntu universe repositories, but it's always old. So here's the tutorial shows you how to always get the latest release.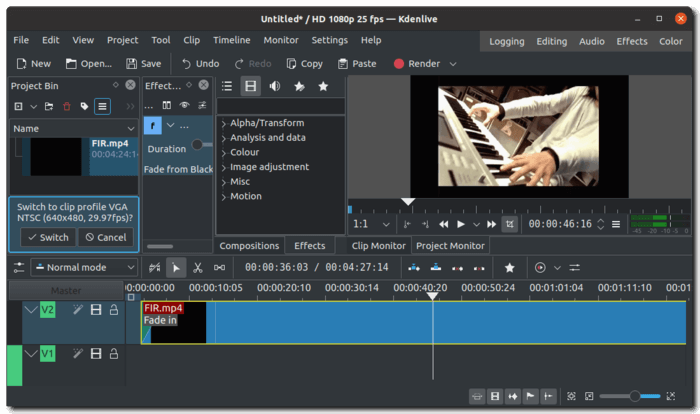 How to Install & Update Kdenlive via PPA:
The video editor has a stable PPA, which so far supports for Ubuntu 20.04, Linux Mint 20, and derivatives.
Open terminal from system application launcher. When it opens, run command to add the PPA:

sudo add-apt-repository ppa:kdenlive/kdenlive-stable

After adding the PPA, refresh system package cache (done automatically in Ubuntu 20.04 while adding PPA) and install the editor:

sudo apt update

sudo apt install kdenlive
With the PPA added in your system, future Kdenlive package updates will be available in Software Updater (Update Manager) along with regular system updates.
To remove the PPA, open terminal and run command:
sudo add-apt-repository --remove ppa:kdenlive/kdenlive-stable
And to remove Kdenlive video editor if you want via command:
sudo apt remove --autoremove kdenlive
Install & Update Kdenlive via Flatpak in Ubuntu & other Linux
The software is also available as Flatpak, an universal Linux package format, that runs in sandbox.
For Ubuntu 20.04, first setup flatpak daemon by running following commands one by one:

sudo apt install flatpak

flatpak remote-add --if-not-exists flathub https://flathub.org/repo/flathub.flatpakrepo

Other Linux can follow this guide to setup flatpak daemon.

Then run command to install the flatpak package:

flatpak install flathub org.kde.kdenlive
If a new release package is out, update the package by running command:
flatpak update org.kde.kdenlive
To remove the Kdenlive flatpak package, simply run command in terminal:
flatpak uninstall org.kde.kdenlive
That's it. Enjoy!