Missing the old Ubuntu desktop wallpapers? You don't have to search them on the web. They are still in your system repositories!
You know, each Ubuntu release has a default wallpaper and optional photo images in background settings. Ubuntu keeps all these image files in system repositories, so users may install them at any time.
Ubuntu 6.10, 7.04 & 7.10 Default wallpaper:
The default wallpapers for Ubuntu 6.10, Ubuntu 7.04 and Ubuntu 7.10 were the first ones made into Ubuntu repositories. The packages are:
edgy-wallpapers
feisty-wallpapers
gutsy-wallpapers
To install them, press Ctrl+Alt+T on keyboard to open terminal. Then, run the apt command below:
sudo apt install edgy-wallpapers feisty-wallpapers gutsy-wallpapers
For those hate Linux commands, install them one by one using Synaptic Package manager (available in Ubuntu Software).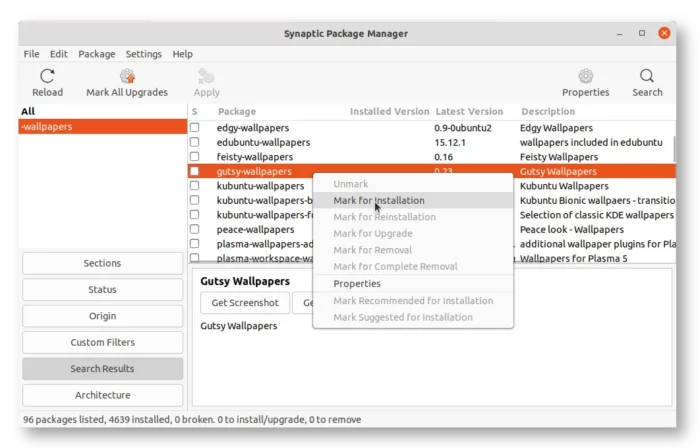 Wallpapers from Ubuntu 9.10 to current:
The Ubuntu 8.04, Ubuntu 8.10, and Ubuntu 9.04 wallpapers are somehow missing from system repositories! Start with Ubuntu 9.10, user may install the package below to get the default wallpapers for each release:
ubuntu-wallpapers-<codename>
The <codename> can be:
artful for Ubuntu 17.10
bionic for Ubuntu 18.04
cosmic for Ubuntu 18.10
disco for Ubuntu 19.04
There are more including 19.10 eoan, 20.04 focal, 20.10 groovy, 21.04 hirsute, 21.10 impish, 9.10 karmic, 10.04 lucid, 10.10 maverick, 11.04 natty, 11.10 oneiric, 12.04 precise, 12.10 quantal, 13.04 raring, 13.10 saucy, 14.04 trusty, 14.10 utopic, 15.04 vivid, 15.10 wily, 16.04 xenial, 16.10 yakkety, 17.04 zesty.
For each package, you may run a single command in terminal (Ctrl+Alt+T) to install it. For example, install Ubuntu 11.10 wallpapers via command:
sudo apt install ubuntu-wallpapers-oneiric
Or, select install all the old wallpapers via:
sudo apt install ubuntu-wallpapers-*
As well, there are available to install via Synaptic Package Manager: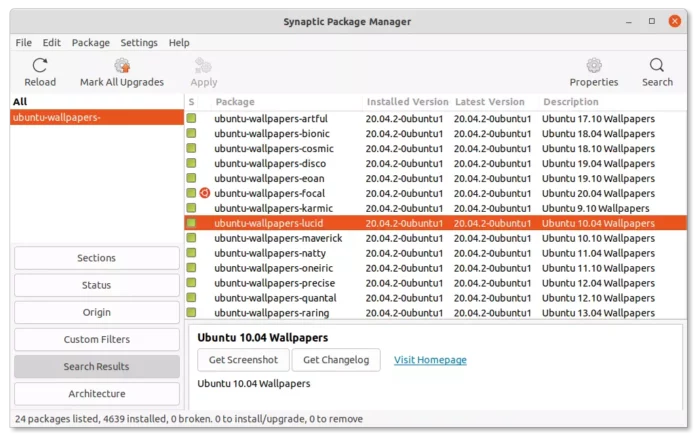 Apply or Find the old wallpaper files:
These wallpaper files are installed to /usr/share/backgrounds directory! If you want to edit or share them with others, open the folder via:
sudo nautilus /usr/share/backgrounds
NOTE: the files belong to root. You have to change the ownership after copy & pasting to anywhere else.
And, to apply an old image as wallpaper, just go to background settings and click one on the thumbnail preview.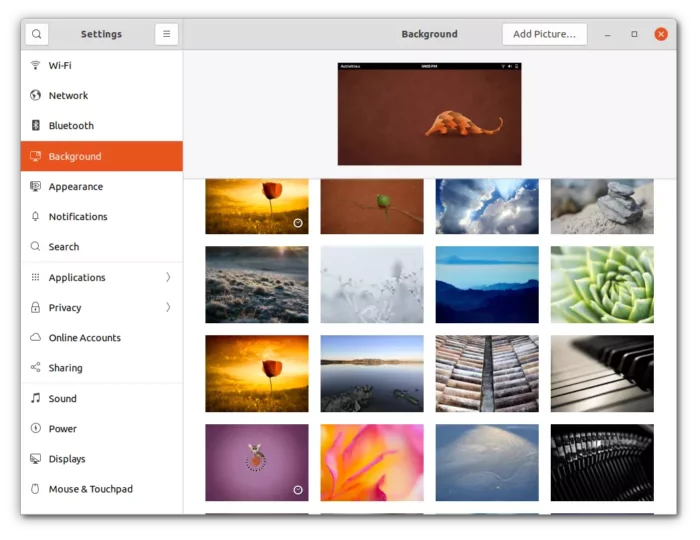 Some old Ubuntu wallpapers (optimized):
In the end, there are some classic wallpaper images: