Looking for a feed reader application for your Linux Desktop? Try Feeds, a modern news reader for Gnome.
Feeds is a minimal RSS/Atom feed reader built with speed and simplicity in mind. It starts either by adding new feeds via URL, or importing an OPML file.
The application supports for reading news in three modes: Web View, Reader Mode, and RSS Content. JavaScript is disabled by default in the default Web view mode, though it can be enabled in Preferences.
Other features include:
Filter news articles by feed.
Save news and read it offline anytime and anywhere.
Import / Export OPML.
Responsive user interface.
Keyboard shortcut support.
One click to copy article link to clipboard
See more about the software via screenshots (click to expand):
How to Install Feeds in Linux:
Feeds is available as gnome-feeds in most recent Linux Distributions' official repositories.
For Ubuntu 20.10 / Debian 11, install the app via command in terminal (Ctrl+Alt+T):
sudo apt install gnome-feeds
For Fedora, install it by running command:
sudo dnf install gnome-feeds
For Arch Linux, it's available as an AUR package: gfeeds-git.
For Other Linux, it's available as Flatpak package. Follow this setup guide, then you can install the app via the command below:
flatpak install flathub org.gabmus.gfeeds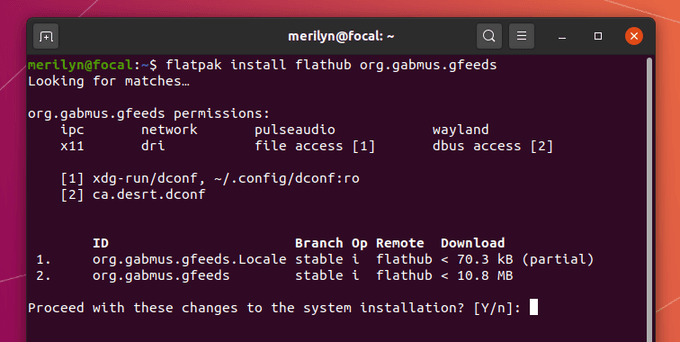 And the Flatpak package can be updated via command:
flatpak update org.gabmus.gfeeds
(Optional) Or you can remove it via command:
flatpak uninstall org.gabmus.gfeeds