After two beta 4.1 series releases, the free and open-source system cleaning application BleachBit 4.2.0 was finally announced as the new major release.
Compare to the previous 4.0.0 release, BleachBit 4.2.0 adds support for cleaning Zoom, Pale Moon, and Slack messenger. And it improves Firefox support by cleaning bookmarked sites, moz_origins, favicons.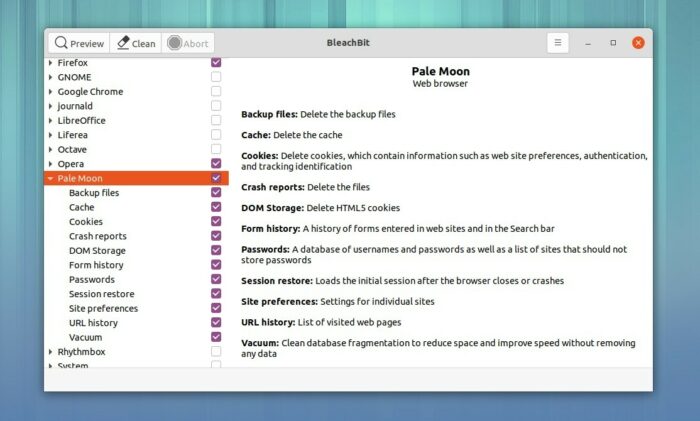 Other changes in the release include:
Add cleaner for Chromium-based Microsoft Edge for Windows.
Support shredding with deep scan.
Support advanced searches in deep scan: nregex, wholeregex, and nwholeregex.
Do not delete LibreOffice extensions.
Clean Chromium on Linux when installed as snap.
See more system cleaning tool for Linux desktop.
Download & Install BeachBit in Linux:
The software offers official binary packages (deb & rpm) for Ubuntu, Linux Mint, Debian, Fedora, CentOS, openSUSE, which are available to download at the link below:
For Ubuntu, Linux Mint, Debian based system, grab the .deb, then install it either via your system package manager or by running command:
sudo apt install ./Downloads/bleachbit*.deb
For Fedora, openSUSE, CentOS, grab the .rpm package matches your system and install it via command:
sudo rpm -i PATH/TO/bleachbit-xxx.rpm