Fancy some desktop effects to your app windows? Let me show you how to enable Compiz alike magic lamp effect in Ubuntu, Fedora, or other Linux with Gnome 3 Desktop.
Magic lamp is a desktop animation when you minimize or restore an application window. It's available in KDE and looks alike Mac OS X Genie Effect minimize animation. Gnome users now can get this desktop effect via an extension.
To install Magic Lamp Minimize effect:
1. If you're first time to install a Gnome Shell extension, first go to extensions.gnome.org and click the link to install browser extension.

2. For Ubuntu, you may also install the chrome-gnome-shell package by running command (open terminal via Ctrl+Alt+T):
sudo apt install chrome-gnome-shell

3. Finally go to the extension web page, turn on the toggle icon and click install the extension:
extensions.gnome.org/…/compiz-alike-magic-lamp-effect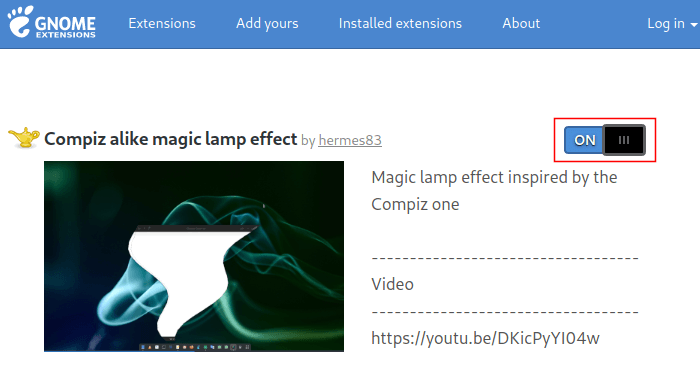 4. To manage the extension settings, install Gnome Tweaks or Extensions (install the gnome-shell-extension-prefs package) tool and enjoy!