This is a beginner's guide shows how to install extensions in GNOME Desktop of Ubuntu, Fedora Workstation, Debian, & Other Linux.
Someone has ever asked me how to install extensions in Ubuntu. It made me realize that even quite simple questions may confuse users who are new to Linux. So, I'm here to write this tutorial and hope it could help!
Gnome Extensions
Like Chrome and Firefox web browsers, the popular GNOME desktop, which is default in Ubuntu & Fedora and optional in a few other Linux, has extensions support.
KDE and Linux Mint Cinnamon desktops have built-in tools to browse and install extensions. However, GNOME so far does not have official tool to do the job. User can either install extensions from the official website directly or use a third-party tool.
Ubuntu & Debian do not support this stuff out-of-the-box, until you've done the 'Method 1' below.
Method 1: Install Agent to support installing extensions via browser
Fedora, Rocky Linux, Arch and Manjaro can install extensions by visiting the website without any configuration. How, Debian & Ubuntu need to install the agent package first.
1. To do so, press Ctrl + Alt + T key combination on keyboard to open terminal. When it opens, paste the command below and hit Enter:
sudo apt install chrome-gnome-shell gnome-shell-extension-prefs
Type user password for sudo authentication (no asterisk feedback) and hit Enter. Here also installs the gnome-shell-extension-prefs package for the official tool to manage installed extensions.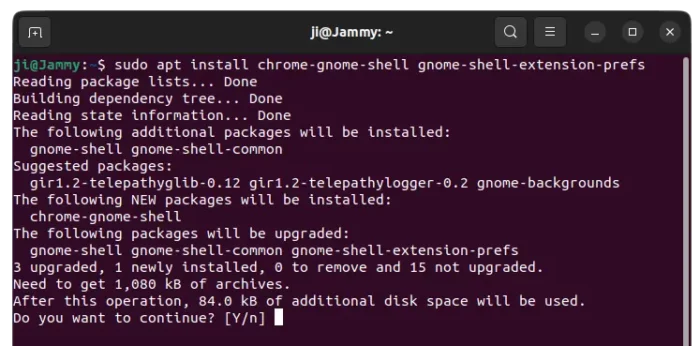 2. After that, visit https://extensions.gnome.org/. For the first time, you need to click the link to install browser extension:

3. Refresh the web page. Finally, you may browse, search and click your favorite extension, and use the ON/OFF switch to install/uninstall any extensions.
Skip the API v6 warning. It's a website issue but not affect installing extensions.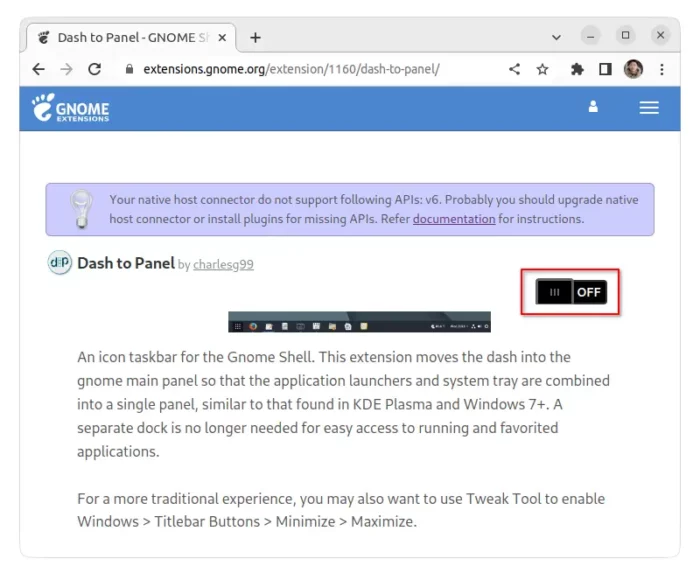 Ubuntu 22.04 with pre-installed Firefox WILL support installing Gnome Extensions in near future, though it does not at the moment.
For all installed extensions, you may search for and open "Extensions" app from the 'Activities' overview screen to manage them: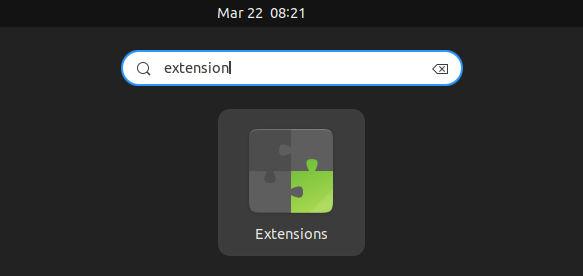 Method 2: Use Extension Manager
Extension Manager is a free open-source tool, makes it possible to install and manage extensions all in one app window.
With it, user can search and browse extensions via "Popularity", "Downloads", "Recent", and "Name" filters. And, either click an item to go to its details page or use "Install" button to install it.
You can even install "Unsupported" extensions, though it may not function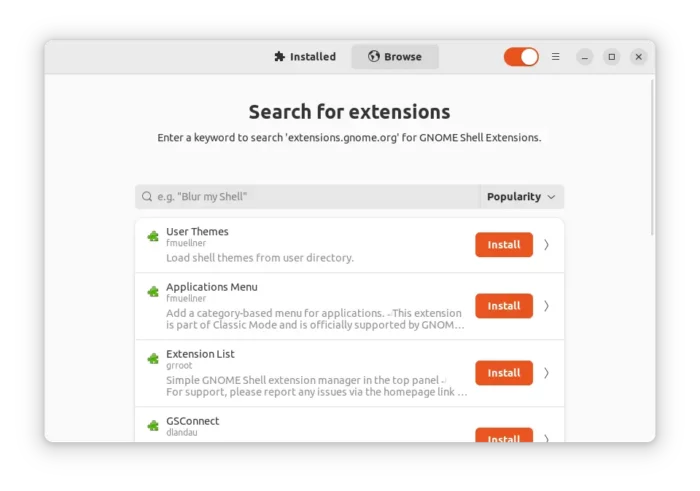 Like the official Gnome Extensions app, it also provides the tab to manage all user installed and system built-in extensions.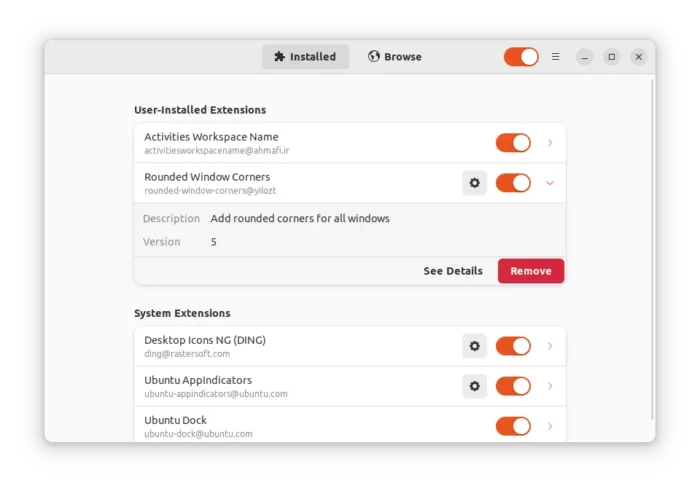 How to Install Extension Manager in Ubuntu 22.04
NOTE: This is a third-party tool, and it requires GNOME version 41+.
The app is available in the official repositories of Ubuntu 22.04, Debian 12/Debian Unstable, Arch AUR, Kali Linux. Simply search for and install it via your system package manager.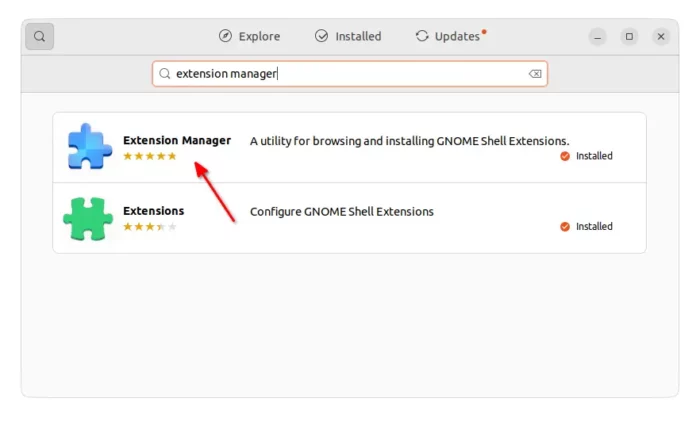 Install Extension Manager in most other Linux
It's also available to install in most Linux system as universal Flatpak package that run in sandbox.
First, follow the official setup guide to enable Flatpak support in your Linux, then get the package from the link below:
And, here's a step by step tutorial shows how to install Flatpak package in Linux.